PLEASE CLICK TO DONATE TO OUR SITE!!!!
Passions Winners & Losers
---
Winners & Losers by Michele and Cheryl
1/21/08 – 1/25/08
Winners:
Juanita read Theresa the riot act for the things she did in order to get Ethan.
Pretty's plan to make Fancy look bad in Marty's eyes worked. Of course it didn't work for Luis, but at least Marty was able to see what kind of person Fancy is.
Losers:
Tabitha didn't think to look behind the picture frame when she was looking for Miguel's letter.
Theresa told Juanita about her love life when Pilar told her not to trust anyone. She was smart enough not to give names, but it didn't do any good when Juanita figured out who she was.
Luis defended Fancy after the way she spoke to him and Marty.
Back to the Main Passions Winners & Losers Page
Back to the Main Passions Page
---
---
Buy Soap Magazines
Go here for great news & scoops, photos and in-depth articles!
Soap Opera Digest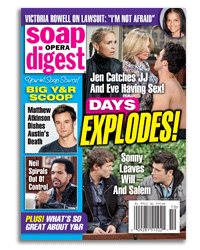 ---
---