Top Ten Reasons We Know Timmy Is A Doll by Katie
10) He is short
9) He talks in 3rd person
8) His favorite word is "Princess"
7 )He always wears gloves
6) He can get cut up, burned, and unstuffed, and somehow still survive!
5) He loves martimmys
4) He has lots of 'dolly' nick names such as "doll face" and "mini-mind"
3) He is ALWAYS scared
2) His hair turns different colors within an instant
and the #1 reason is.....
Do you know any person who is as dumb as Timmy?........
I didn't think so!
Back to the Main Passions Top Ten Lists Page
Back to the Main Passions Page
---
---
Buy Soap Magazines
Go here for great news & scoops, photos and in-depth articles!
Soap Opera Digest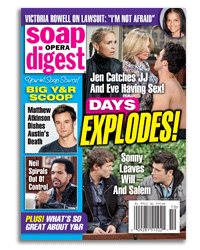 ---
---