Top Ten Things I Wonder About Passions
by Katie
10) Does anyone have a car?
9) When do the teens go to school?
8) Does anyone go to the bathroom?
7) Are there only 4 families in Harmony?
6) Why does everyone go to the wharf?
5) How can there be a witch?
4) When they fell in the mine shaft, how come no one went to the hospital?
3) Does anyone have any other friends besides the people they normally hang
out with?
2)Does anybody ever eat?
And the #1 thing that I wonder is...
1) How can Grace not notice Tabitha in their window and backyard 24-7
Back to the Main Passions Top Ten Lists Page
Back to the Main Passions Page
---
---
Buy Soap Magazines
Go here for great news & scoops, photos and in-depth articles!
Soap Opera Digest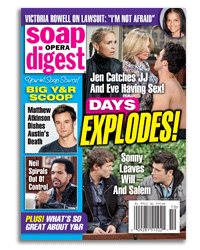 ---
---