PLEASE CLICK TO DONATE TO OUR SITE!!!!
Passions Top Ten List
---
Top Ten Ways You Know You're in Harmony: by Shaunna
10. Your neighbor is a witch.
9. The Cranes own you
8. The pits of hell open regularly
7. Every time something goes wrong you blame Alistair
6. You don't know who your parents are, (is it Eve and Julian? Martin and Katherine?)
5. Your moms pines after her first love
4. Almost everyone you know cheats on their bf or gf
3. A lot of unexplained things happen!
2. Fate never allows you to be with your soulmate
1.There's a real life mermaid walking among you
Back to the Main Passions Top Ten Lists Page
Back to the Main Passions Page
---
---
Buy Soap Magazines
Go here for great news & scoops, photos and in-depth articles!
Soap Opera Digest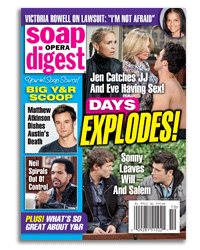 ---
---