PLEASE CLICK TO DONATE TO OUR SITE!!!!
This is just an unofficial fan page, we have no connection to "Passions" or NBC.
PLEASE CLICK TO DONATE TO OUR SITE!!!!
Passions Top Ten List
---
Top Ten Things That Will Never Happen on Passions
by Shaunna
10.Pilar moving on with her life, and getting over Martin.

9. Ivy admitting to Sam that she sabotaged his relationship with Grace time and time again

8. Tabby and Endora exposed

7. Siren getting any dumber or smarter.

6. Whitney turning evil

5.Luis getting over Sheridan and vise versa

4. One of the women other than Tabby and Pilar taking care of their kids 24/7.

3. Gwen giving Jane back to Theresa out of the kindness of her heart

2. Alistair playing Nice

1. Gwen telling Theresa "Take Ethan, I don't want him! I hate to see you so unhappy!" !
Back to the Main Passions Top Ten Lists Page
Back to the Main Passions Page
---
---
Buy Soap Magazines
Go here for great news & scoops, photos and in-depth articles!
Soap Opera Digest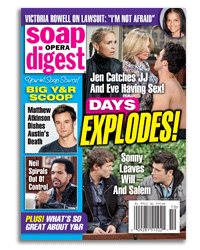 ---
---