Top Ten Things We Will Never See Gwen Do or Say
by Shaunna
10. Leave Ethan
9. Stop listening to Rebecca.
8. Move out of the Crane Mansion
7.Marry a blue collar man. (Ethan doesn't count, he's a lawyer)
6.Be a real housewife or mother
5."We don't have any money? COOL!" Gwen saying this ever
4. "Theresa isn't to blame for Sarah's death, I am."
3.become best friends with Theresa
2.Give Jane to Theresa out of the goodness of her heart.
1.. say "I was i was just like Theresa! She's got it all, including my husband's heart!"
Back to the Main Passions Top Ten Lists Page
Back to the Main Passions Page
---
---
Buy Soap Magazines
Go here for great news & scoops, photos and in-depth articles!
Soap Opera Digest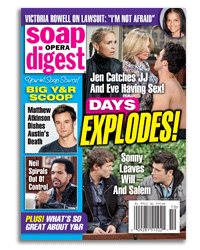 ---
---