PLEASE CLICK TO DONATE TO OUR SITE!!!!
Passions Top Ten List
---
The Top-10 Things You're Tired of Hearing

10. Whenever Fox and Kay say how much they love each other

9. Whenever TC blames Eve for his family's problems

8. Whenever Jessica says that she's through with Spike

7. Whenever Ethan says that the tabloid ruined his life

6. Whenever Fox says "You Know"

5. Whenever Sheridan blames herself for what went wrong

4. Whenever Liz calls Eve "Sister Dear"

3. Whenever Kay tells Tabitha you have to help me

2. Whenever Fancy calls Alistair "Grampy"

1. Whenever Theresa says Gwen and Rebecca were the ones who sent Ethan's true paternity to the tabloid

Back to the Main Passions Top Ten Lists Page

Back to the Main Passions Page
---
---
Buy Soap Magazines
Go here for great news & scoops, photos and in-depth articles!
Soap Opera Digest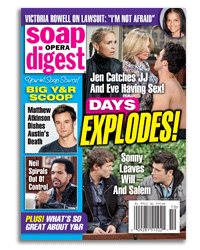 ---
---