PLEASE CLICK TO DONATE TO OUR SITE!!!!
Passions Top Ten List
---
The Top-10 Excuses Theresa uses for her actions

10. It's fate

9. I never meant for this to happen

8. I would never hurt Ethan

7. You (Gwen) drove me to this

6. They (Ethan and Gwen) stole my child

5. I was desperate

4. You (Gwen) took my daughter away from me

3. Ethan belongs to me and I'm going to do what it takes to get him

2. Alistair keeps raping/hurting me so I have to kill him

1. I have to protect my son from Alistair

Back to the Main Passions Top Ten Lists Page

Back to the Main Passions Page
---
---
Buy Soap Magazines
Go here for great news & scoops, photos and in-depth articles!
Soap Opera Digest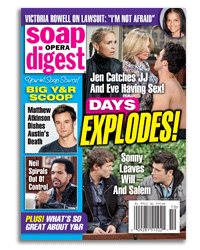 ---
---