PLEASE CLICK TO DONATE TO OUR SITE!!!!
This is just an unofficial fan page, we have no connection to "Passions" or NBC.
PLEASE CLICK TO DONATE TO OUR SITE!!!!
Passions Top Ten List
---
The Top-10 benefits of being an early shipper of Simae
by Ms. S. E. ("Gargy") Hammond
10-JERk Boy will have to take notice and be accountable for a good portrayal of Simone and Rae, as lesbians and a couple.

9-Showing your support for lesbians, their lives, and a damn good storyline.

8-Proof that there is more support and open-mindedness for same-sex couples.

7-The numbers will proof that same-sex couples deserve the same equal, fair, and accurate depiction of their lives and how they love.

6-Pissing George W. Bush off is the most fun any one person can have.

5-Make people open their eyes, ears, and minds to how the world REALLY is.

4-Simone and Rae equals a super couple.

3-Proof that Russell women are genetically encoded to fall in-love with Cranes.

2-We will be heard.

1-SOD and so forth will write about it more.
Back to the Main Passions Top Ten Lists Page
Back to the Main Passions Page
---
---
Buy Soap Magazines
Go here for great news & scoops, photos and in-depth articles!
Soap Opera Digest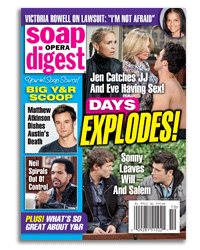 ---
---