PLEASE CLICK TO DONATE TO OUR SITE!!!!
This is just an unofficial fan page, we have no connection to "Passions" or NBC.
PLEASE CLICK TO DONATE TO OUR SITE!!!!
Passions Top Ten List
---
Top 10 Reasons Why NBC Needs to Hire a New Executive Producer/Head Writer
by Ms. S. E. ("Gargy") Hammond
Top 10 reasons why NBC needs to hire a new Executive Producer/Head Writer
10-James E. Reilly's nickname is JERk Boy.

9-Um, how long can a 16-hour day last, anyhow? Apparently, it can last anywhere from 1-1/2 weeks to an entire month.

8-How many times can someone have the same flashback within (Harmony time, here now) 5 minutes?

7-Must we endure the same old storyline without it moving beyond say "will they or won't they"?

6-How long can someone's secrets be kept, all the while more secrets and lies that build like a snowball that even TC should be able see a mile a way.

5-Why hasn't every resident of Harmony figured out that Tabitha is a witch?

4-Why is it acceptable that the Standish women are witches, but Tabitha and Endora would be burn at the stake.

3-The overly sappy romances. The overly drawn-out romances.

2-Too much Sheridan and Luis.

1-It's absolutely amazing that Harmony is even still standing. Much less why Buffy and her gang of Slayers (and friends) have not taken up residence in Harmony--I mean it's the epi-center of all Hellmouths........not too mention, Spike did watch Passions........and everyone in Harmony's favorite show was Buffy the Vampire Slayer, after all. So, where's Buff-master/Spikey-Poo, Dawnie, Willow, and Ghost-Tara!?
Back to the Main Passions Top Ten Lists Page
Back to the Main Passions Page
---
---
Buy Soap Magazines
Go here for great news & scoops, photos and in-depth articles!
Soap Opera Digest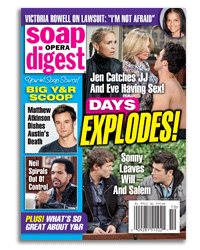 ---
---