PLEASE CLICK TO DONATE TO OUR SITE!!!!
Passions Top Ten List
---
Top Ten Things Whitney has done
1. Went out with Chad when she knew Simone liked him.
2. Kept her relationship with Chad a secret from her family.
3. Kissed Fox while she was dating Chad.
4. Kept TC in the dark about Eve's past.
5. Treated Fox like dirt when he admitted his feelings for her.
6. Kept Theresa's schemes a secret.
7. She didn't tell Chad that she was pregnant.
8. Used Fox to make him think that he fathered her baby.
9. Lied to Fox and Chad about who got her pregnant.
10.Gave her baby up for adoption without telling Chad and Fox the truth.
Back to the Main Passions Top Ten Lists Page
Back to the Main Passions Page
---
---
Buy Soap Magazines
Go here for great news & scoops, photos and in-depth articles!
Soap Opera Digest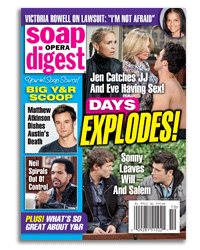 ---
---