PLEASE CLICK TO DONATE TO OUR SITE!!!!
Passions Top Ten List
---
Top Ten Crimes Committed By Someone Other Than Alistair
10. Theresa stole Gwen's embryo so she could be pregnant.
9. Theresa chloroformed Heather (Gwen's surrogate) so she could get implanted with Gwen's embryo.
8. Theresa raped Ethan so she could get pregnant with his baby.
7. Theresa tried to kidnap little Ethan twice.
6. Kay burned down the Lopez-Fitzgerald house.
5. Beth burned down Sheridan's cottage.
4. Beth held Sheridan prisoner in her basement.
3. Beth took Sheridan's baby.
2. Eve burned down Orville's building and the Blue Note.
1. Eve got into a hit and run accident with TC.
Back to the Main Passions Top Ten Lists Page
Back to the Main Passions Page
---
---
Buy Soap Magazines
Go here for great news & scoops, photos and in-depth articles!
Soap Opera Digest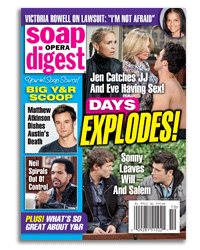 ---
---