PLEASE CLICK TO DONATE TO OUR SITE!!!!
This is just an unofficial fan page, we have no connection to "Passions" or NBC.
PLEASE CLICK TO DONATE TO OUR SITE!!!!
Passions Top Ten List
---
Top Ten Schemes Kay has done
10. Kay rigged it so fish guts could fall on Charity at the prom.
9. When Charity had amnesia, Kay gave her subliminal messages to forget about Miguel.
8. Sold her soul to Hecuba to get Miguel.
7. She came up with a spell to clone herself as Charity to seduce Miguel.
6. She found a spell to put Charity on ice.
5. She set the Lopez-Fitzgeralds' house on fire when Zombie Charity tried to seduce Miguel.
4. She used Charity's essence to get Miguel to sleep with her.
3. She lied about David working for Ivy so she could break up her parents' marriage.
2. She became Tabitha's assistant so Tabitha could help her get Miguel.
1. She used her baby to get Miguel to love her.
Back to the Main Passions Top Ten Lists Page
Back to the Main Passions Page
---
---
Buy Soap Magazines
Go here for great news & scoops, photos and in-depth articles!
Soap Opera Digest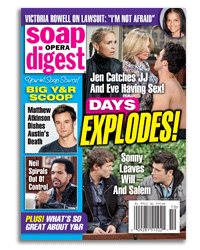 ---
---