PLEASE CLICK TO DONATE TO OUR SITE!!!!
Passions Top Ten List
---
Top Ten Things That Happened in 2003
10. Sheridan found out that she was pregnant.
9. Sheridan was kidnapped.
8. Grace went away to a hotel with David.
7. Kay had her baby. The baby's life was in danger.
6. Beth had a sidekick named Charlie who helped her kidnap Sheridan.
5. Chad, Whitney, Fox, and Theresa went to LA.
4. When Ethan and Gwen went to LA, she lost her baby.
3. Sheridan was rescued by Luis in the water.
2. Eve and Julian kissed several times.
1. Antonio learned the truth about Sheridan and Luis.
Back to the Main Passions Top Ten Lists Page
Back to the Main Passions Page
---
---
Buy Soap Magazines
Go here for great news & scoops, photos and in-depth articles!
Soap Opera Digest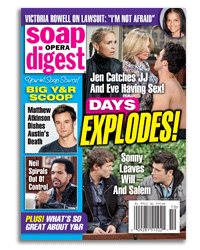 ---
---