PLEASE CLICK TO DONATE TO OUR SITE!!!!
Passions Top Ten List
---
Top Ten Things Eve Has Done
10. She set Orville's building on fire
9. Helped Ivy to break up Sam and Grace
8. She lied to Ethan about being premature
7. She lied to Sheridan about her dreams of killing someone
6. She lied to TC about her relationship with Liz
5. She got rid of the information Chad needed to find out about his past
4. She lied about David being Grace's husband
3. She lied about John's paternity
2. She lied about what happened to her baby
1. She set the Blue Note on fire
Back to the Main Passions Top Ten Lists Page
Back to the Main Passions Page
---
---
Buy Soap Magazines
Go here for great news & scoops, photos and in-depth articles!
Soap Opera Digest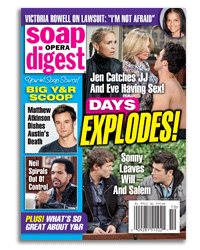 ---
---