PLEASE CLICK TO DONATE TO OUR SITE!!!!
Passions Top Ten List
---
Top Ten Passions Schemers
by Ryan
10. Tabitha Lenox - Even though she is a witch, she just doesn't cut it; she spends too much time drinking Martimmys and thinking about Timmy.
9. Liz Russell - Once a nice girl, now a blackmailing witch, Liz deserves the number 9 spot.
8. Julian Crane - He spends too much time thinking about Eve, but when he schemes, he can be downright ruthless.
7. Gwen Hotchkiss - Though she has died down, she used to be as bad a schemer as her mother.
6. Alistair Crane - If he got more airtime, he would probably be number 1, but this Pops is downright nasty!
5. Rebecca Hotchkiss - She mainly just puts Theresa and Ivy down, but she did organize Theresa's execution, and she always inches for more.
4. Ivy Wintrop - This woman can me real straight-foward, but can also be delusional; she really is Harmony's Blackmail Queen.
3. Theresa Lopez-Fitzgerald - Though she appears innocent, she has schemed many times, using everything from lies to blackmail. She even has had a couple psychotic episodes like hitting Ivy with a fire-poker and stabbing Gwen with scissors.
2. Kay Bennett- Ruthless, Scheming, and Manipulative all describe Kay, who has recently teamed up with Tabitha to bring down Charity
1. Beth Wallace - Complete psycho, but I am only afraid things will get worse...
Back to the Main Passions Top Ten Lists Page
Back to the Main Passions Page
---
---
Buy Soap Magazines
Go here for great news & scoops, photos and in-depth articles!
Soap Opera Digest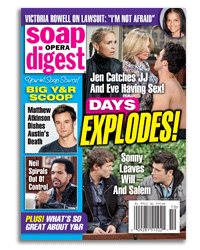 ---
---