1. Rebecca sending Ethan's paternity to the tabloid.
2. Ivy having Whitney drugged.
3. Eve changing John's paternity test.
4. Chad never found out who his parents are.
5. Whatever happened to Martin.
6. Eve being the one singing on Julian's tape.
7. Why Antonio left Harmony.
8. Kay putting Charity in a block of ice.
9. Kay sold her soul to Hecuba.
10. No one ever found out about Hidden Passions.
Back to the Main Passions Top Ten Lists Page
Back to the Main Passions Page
---
---
Buy Soap Magazines
Go here for great news & scoops, photos and in-depth articles!
Soap Opera Digest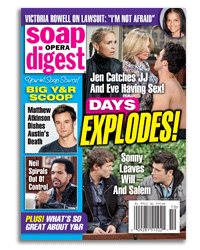 ---
---