PLEASE CLICK TO DONATE TO OUR SITE!!!!
Passions Top Ten List
---
Top Ten Signs You're in Harmony
10. Nights last for weeks.
9. People rarely eat, but they won't pass up a drink.
8. Everyone says the name of the person they're talking to.
7. Nobody ever works.
6. Everyone can barge into your mansion because you don't have security.
5. Everyone can read your mind and you won't correct them no matter how wrong they are.
4. Everyone has a secret.
3. Your next door neighbor is a witch.
2. People always use the phrase "The Woman/Man I love.
1. Evil is the blame for everything.
Back to the Main Passions Top Ten Lists Page
Back to the Main Passions Page
---
---
Buy Soap Magazines
Go here for great news & scoops, photos and in-depth articles!
Soap Opera Digest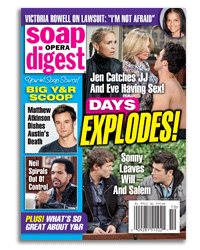 ---
---