PLEASE CLICK TO DONATE TO OUR SITE!!!!
Passions Top Ten List
---
Top Ten Things Theresa's Done In The Name Of Love
10. She was willing to die for Ethan twice.
9. She made a deal with the "devil" to get Ethan back.
8. She threatened and attacked Ivy to keep her from exposing her pregnancy.
7. At first she was going to pass her baby off as Ethan's so they could stay together.
6. She was willing to get an abortion to keep her secret.
5. While trying to get Ethan reinstated as a Crane, she married Julian.
4. She withheld Ethan's true paternity from him.
3. She took the job as Gwen and Ethan's wedding planner to get closer to Ethan.
2. She made up a boyfriend named Chuck.
1. She lied about her identity so she could work for Ivy.
Back to the Main Passions Top Ten Lists Page
Back to the Main Passions Page
---
---
Buy Soap Magazines
Go here for great news & scoops, photos and in-depth articles!
Soap Opera Digest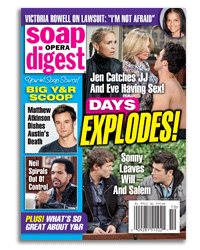 ---
---