PLEASE CLICK TO DONATE TO OUR SITE!!!!
Passions Top Ten List
---
Top Ten Things We're Tired of Hearing
10. The Man/Woman I love.
9. I Know what it is. I don't know why I didn't see it before.
8. The shock could kill him.
7. There's nothing more I could do for him/her.
6. You're a wicked girl, Beth.
5. We have to tell Antonio the truth.
4. This will e=affect the lives of so many people.
3. You ruined my life, Eve.
2. Pain and suffering
1. Evil
Back to the Main Passions Top Ten Lists Page
Back to the Main Passions Page
---
---
Buy Soap Magazines
Go here for great news & scoops, photos and in-depth articles!
Soap Opera Digest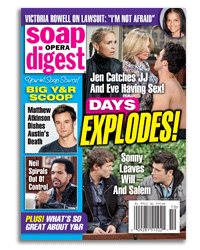 ---
---