PLEASE CLICK TO DONATE TO OUR SITE!!!!
Passions Top Ten List
---
Top Ten Ways You Know You're in Harmony
10. People change their clothes about 3 or 4 times and it's still the same night.
9. People barge into a million dollar mansion without knocking.
8. People keep saying the name of the person that they are talking to.
7. You think about something that just happened over and over again.
6. You can have the same conversation over and over again and nobody says anything.
5. When you are killed, you will be alive and well.
4. The wrong person can always hear your conversation, no matter how far away you are or how low you talk.
3. You can clearly mean one thing, but the person you are talking to will think you mean something completely different.
2. You can blame evil for everything.
1. You have all the time to do anything you want because days last forever in Harmony.
Back to the Main Passions Top Ten Lists Page
Back to the Main Passions Page
---
---
Buy Soap Magazines
Go here for great news & scoops, photos and in-depth articles!
Soap Opera Digest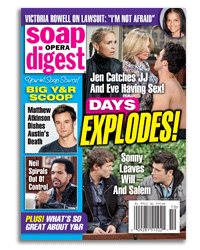 ---
---