PLEASE CLICK TO DONATE TO OUR SITE!!!!
Passions Top Ten List
---
Top Ten Broken Records
by Sonali
10. Whiny Whitney
9. TC "tennis blah"
8. Simone "Don't do that Kay"
7. Charity "evil wants to break up me and Miguel"
6. Ivy/David (convo cc. Sam/Grace)
5. Kay "I'm gonna tell Charity"
4. Ethan "Trust ... blah"
3. Sheridan/Luis (convo cc. telling Antonio)
2. Teresa
1. Antonio "I know what's going on"
Back to the Main Passions Top Ten Lists Page
Back to the Main Passions Page
---
---
Buy Soap Magazines
Go here for great news & scoops, photos and in-depth articles!
Soap Opera Digest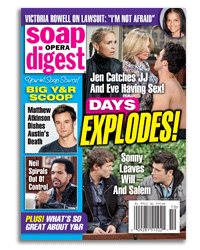 ---
---