PLEASE CLICK TO DONATE TO OUR SITE!!!!
Passions Top Ten List
---
Top 10 Lessons Harmony Residents Need to take in School
(if they had a school that is)
by Sonali
10.How to get a real job where real work is done.
9.How to dress (only some need to attend this class)
8. How to get over your first love.
7. How to say people's names instead of "my love" "the woman/man I love" or "my brother/sister" etc.
6.How to not finish people's sentences/make up excuses for them.
5.How to not always foresee things. (eg. I think that this green smoke is evil returning to Harmony)
4. How to eavesdrop properly.
3. How and where to have a private conversation, and the volume to speak at.
2. How to lie and get away with it.
1. How to lead a normal life
Back to the Main Passions Top Ten Lists Page
Back to the Main Passions Page
---
---
Buy Soap Magazines
Go here for great news & scoops, photos and in-depth articles!
Soap Opera Digest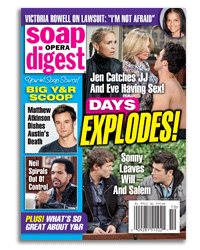 ---
---