PLEASE CLICK TO DONATE TO OUR SITE!!!!
Passions Secrets
---
Shocking Secrets by Michele and Cheryl
1. Sheridan and Luis plotting to expose Julian's plan to break them up
Characters involved in story: Sheridan, Luis, Julian, Rebecca, Alistair, Faux Luis
When Sheridan and Luis were ready to get married, and then Julian hired a look alike to break them up. The look alike had a Luis mask and he was pretending to be Luis. The imposter was with another woman and Sheridan was supposed to see them together and assume that Luis was being unfaithful. Julian and Rebecca decided to throw them an engagement part so they could put Julian's plan into effect. It worked. Sheridan did see the faux Luis making love with another woman. Little did Julian know, Sheridan and Luis were on to him. They knew what Julian was up to, they pretended to break up to make Julian think that his plan worked. He thought that it worked, but it didn't.
2. Sheridan's alive (The first time she died)
Characters involved in story: Sheridan, Luis, Hank, Roger, Pierre, Agent Freeman, Eve
When the drug cartel was after Sheridan, they hired Hank to kill her. Little did the drug cartel know, Hank was working with the FBI to arrest them. He even told Sheridan about it. Eve was also informed of the plan. With Eve's help, Sheridan faked her death in order to fool the drug cartel. Eve gave Sheridan something that would keep her unconscious for a little while. The plan almost didn't work because the drug that Eve gave her wore off and she was buried alive. Hank finally told Luis the truth and after a while, Sheridan was rescued. She was presumed dead but Luis got his Christmas miracle and she was alive.
3. David being blackmailed by Ivy
Characters involved in story: Sam, Grace, Ivy, David, John
When David first came to Harmony, he claimed he was Grace's husband. he even had proof that he was her husband. He knew things about Grace that no one but Sam could have known about her. (i.e. a scar on her foot, the way she drinks tea, her love of angels, etc.) Sam found the reverend who swore that he remembered marrying them. The most crucial evidence that David provided was a son named John. David was always talking on the phone to a mystery person about Sam and Grace. The mystery person was revealed to be Ivy. She is blackmailing him to break up Sam and Grace.
4. Beth causing Mrs. Wallace's accident
Characters involved in story: Beth, Mrs. Wallace
When the show first started, Beth appeared to be a nice girl. She didn't seem like the type that would hurt her mother. Once the character of Mrs. Wallace was revealed, she changed. It was revealed that Beth pushed her mother and is the reason why she needs a walker.
5 Theresa didn't get executed
Characters involved in story: Theresa, Ethan, Rebecca, Alistair, Ivy
When Theresa saw a tape that Rebecca had fixed to make it look as if Ethan killed Julian, she confessed to the murder. Alistair blackmailed the judge to convict and execute Theresa. Theresa was executed by lethal injection. Once she was executed, Alistair made arrangements to have her funeral in the Crane mansion. While her body was in the mansion, her ghost was haunting Ivy and Rebecca. It was revealed that Alistair kept Theresa from being executed so he could bring Julian out of hiding and he had big plans for her.
Back to the Main Passions Secrets Page
Back to the Main Passions Page
---
---
Buy Soap Magazines
Go here for great news & scoops, photos and in-depth articles!
Soap Opera Digest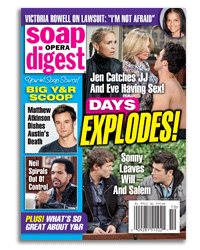 ---
---