PLEASE CLICK TO DONATE TO OUR SITE!!!!
Passions Q&A
---
From Suzanne 2/1/10
Former "Passions" star Juliet Mills (ex-Tabitha) answered our questions this week. See below for the press release concerning the staged reading that she and other stars are doing in Los Angeles!
1. What drew you to this project?
Two things, our friend the producer Mark Rozzano, and our love of Thriller theatre, especially Comedy Thriller theatre.
2. What exactly is a "staged reading"?
A staged reading is where the actors are reading from their scripts, not having learnt the lines.
But we still rehearse and "do the homework" so the characters are there.
3. Are you a reader or fan of Agatha Christie novels or other mysteries?
I can't say I have read her books, but I have seen many of her plays and films.
4. Do you plan to do more stage work?
Oh yes I love the theatre. I started in the theatre when I was 16! It's in my blood!
I met my beloved husband when we were both doing "The Elephant Man" in 1980.
5. Which role do you get most recognized for (on the street, by fans etc.)
Although Tabitha in Passions is my most recent T.V. role, I get recognised for Nanny more than anything else.
6. You and Maxwell Caulfield have been married a long time. What is the secret of your success?
Maxwell and I know how lucky we are and are very grateful for our wonderful life together.
As for the secret..... lots of things I suppose....We have a lot in common, we have the same sense of humour,
we laugh a lot, we like doing the same things, I love being his wife and we both trust each other absolutely. Very important, especially in our business. Maxwell has had love scenes with some of the most beautiful women on the screen. But he makes me feel I am the only one for him. And when he has love scenes I go shopping!!!!
7. Do you still keep in touch with any of your Passions co-stars?
I made a lot of friends on Passions and am still in touch with some of them. Lisa de Cazotte our exec producer is a great friend, and Heidi Mueller, who played Kay, lives close by, I am very fond of her, and James Hyde and his wife are friends, also some of the directors and my wonderful hairdresser Bobby "G"...He put that wig on for years and years every morning at 6 30 A.M.!!!!
8. What plans do you have for the future? (work or otherwise)
No plans at present, my dance card is clear! I would like to do a stint on the Bold and The Beautiful I love that show!
9. I loved "Nanny and the Professor" when I was a little girl (I'm not kidding!) Do you have any idea why it has still not come out on DVD?
Don't know why Nanny has never come out on D.V.D. People are always asking me that. Maybe you can find out!!!
10. What advice would you give an aspiring actress just starting out?
Give it all you've got, be prepared, don't take rejection personally, and visualise what you want, be precise.
And as my darling little co-star on Passions, Josh Ryan Evans always used to say DREAM BIG.......
"PASSIONS" STAR JULIET MILLS AND HUSBAND MAXWELL CAULFIELD JUST ADDED TO
LIVE ON STAGE AGATHA CHRISTIE READINGS IN LOS ANGELES JOINING STEFANIE
POWERS AND THE BIGGEST STARS IN DAYTIME TV All-star casts of soap fan
favorites -- Vincent Irizarry, Jacob Young, Ricky Paull Goldin, Robert
Newman, Constance Towers, Adam Mayfield and More to Perform Readings of
Rarely Seen Agatha Christie Mysteries

January 21, 2010 (Beverly Hills, CA) Soap Fan Mystery Theatre kicks off
with a new series of staged readings featuring Hollywood favorites, the
most popular stars of Daytime television, and captivating Agatha
Christie mysteries at the prestigious Writers Guild Theater in Beverly
Hills located at 135 South Doheny Drive at Wilshire Blvd. First up is
"Agatha Christie's The Unexpected Guest", starring Stefanie Powers and a
trio of popular stars from ABC's All My Children (AMC). Performances
are Saturday, February 20 (8:00 pm) and Sunday, February 21 (2:00 pm and
7:00 pm).

Stefanie Powers, TV's iconic Jennifer Hart from Hart to Hart, will be
joined on stage in Agatha Christie's exciting thriller "The Unexpected
Guest" by this year's Daytime Emmy-Winner, Vincent Irizarry (AMC's Dr.
David Hayward), Daytime Emmy-Winner Jacob Young (AMC's JR Chandler), and
Adam Mayfield (AMC's Scott Chandler). After 40 years of taping in New
York City, All My Children has recently moved production to Los Angeles.
This is the first time the stars of All My Children will appear
together on stage in Southern California. The role of the police
inspector will be read by Robert Newman, who starred as Joshua Lewis for
28 years on The Guiding Light. Just added to the cast is soap legend
Constance Towers (Helena Cassadine of "General Hospital.")

The second reading in the series, "Agatha Christie's Spider's Web," will
be performed Saturday March 13 (8:00 pm) and Sunday March 14 (2:00 pm
and 7:00 pm) and will star Juliet Mills (Tabitha from the cult favorite
soap "Passions"), her husband Maxwell Caulfield, best known for his role
as Miles Colby on "Dynasty/The Colby's", played Pierce Reilly #2 on All
My Children, and has starred in popular films such as Grease 2. Ricky
Paull Goldin (AMC's Jake Martin), plays the Police Inspector
investigating murder and mayhem at a country estate with Agatha
Christie's colorful suspects played by Jacob Young, Adam Mayfield and
additional fan favorite guest stars still to be announced.

Agatha Christie is the most widely published author of all-time. Only
the Bible has outsold her collective book sales of over 4 billion
copies, and she is currently the most translated individual author in
the world. Her stage play, "The Mousetrap", is still running in London's
West End after 57 continuous years. The majority of her mysteries have
been adapted for the big screen and television, and recently a new
generation has been introduced to her works through the launch of
cutting-edge video games, forever securing Agatha Christie's title of
The Queen of Crime.

The series of plays is being produced by HOO R US Productions, a
partnership between Jacob Young and Mark Rozzano. Rozzano's previous
credits include Associate Producer of "Disney's Beauty and the Beast" on
Broadway, which after a 13 year run is now the seventh longest running
show in Broadway history.

Reserved seating is $49.50. A limited number of $150 VIP tickets will be
sold for each performance which include premium seating, a post show
meet and greet, and a photo opportunity with the stars. 2-show
subscriptions and group discounts are also available. Free Parking is
provided for all performances! Tickets may be purchased online at
www.tix.com or by phone at 1.800.595.4849. For more information go to
www.soapfanmysterytheatre.com
Back to the Main Passions Articles Page
Back to the Main Passions Page
---
---
Buy Soap Magazines
Go here for great news & scoops, photos and in-depth articles!
Soap Opera Digest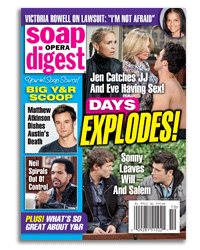 ---
---