PLEASE CLICK TO DONATE TO OUR SITE!!!!
This is just an unofficial fan page, we have no connection to "Passions" or NBC.
PLEASE CLICK TO DONATE TO OUR SITE!!!!
Passions Poetry
---
Poem by Shirley
Yes, He's Still There!
I thought I saw him sitting there,
his twinkling eyes and tousled hair.
I thought he smiled and waved at me
and laughed his laugh so full of glee.
I swear he motioned me to sit
and sat there looking hale and fit.
I sat a while and watched him there,
so cute and playful, in that chair.
I watched him drink martimmys too
and wondered whether any of you
could also see him sitting there,
just like before, in Tabby's chair.
But all the while I thought "How so?"
because we all had seen him go.
That day one year ago today,
when Timmy ceased to run and play.
When Angel Girl walked him away
and kept him where the angels play.
And yet I know that it was him,
he'd found a way to be there again,
and it just seemed so right to me
that he should sit there for all to see.
I've missed him so, his smile and wit,
and I was glad for a glimpse of it,
to know that he will still be here,
and he'll be back, maybe next year.
So watch for him, I know he's there,
sitting and smiling in that chair.
Back to the Main Passions Poetry Page
Back to the Main Passions Page
---
---
Buy Soap Magazines
Go here for great news & scoops, photos and in-depth articles!
Soap Opera Digest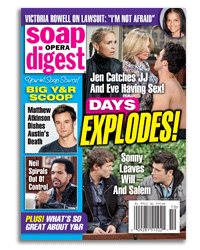 ---
---