PLEASE CLICK TO DONATE TO OUR SITE!!!!
This is just an unofficial fan page, we have no connection to "Passions" or NBC.
PLEASE CLICK TO DONATE TO OUR SITE!!!!
Passions Poetry
---
Poem by Shirley
From Chad, With Love
I love you with every fiber of my being
And without you, the days are long and harsh.
Your face is what keeps me going in the bleakest of times
And your voice lifts me up from whatever quagmire
I find myself sucked into.
I fall into the warm depth of your beautiful mahogany eyes,
Lost and loving every moment of the trip,
And when I lie in your arms and hear the beating of your heart
I know this is where I was created to belong.
You will be my harbor in times of storm
My loving, all encompassing shelter from life's sorrows
I will stay with you until my dying breath speaks your name
And then lies silent through the endless lengths of time.
Whitney is the name my heart will love 'til time ends
And eternity closes it's doors.
Back to the Main Passions Poetry Page
Back to the Main Passions Page
---
---
Buy Soap Magazines
Go here for great news & scoops, photos and in-depth articles!
Soap Opera Digest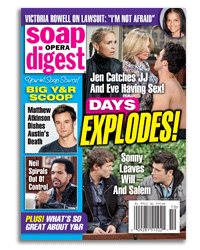 ---
---