PLEASE CLICK TO DONATE TO OUR SITE!!!!
Passions Poetry
---
Poem by Shirley

Beware of Beth

Bethy was a woman in love

With a man who didn't love her.

She tried everything she could think of

But Sheridan had him for sure.

She schemed and she plotted

She spied and she crept

Around where the lovers would meet

She listened to every word that they said

She was very quick on her feet!

She managed to scuttle each plan that they made

And ruined each tryst they attempted

She used poor Antonio, doof that he is,

To make sure each plan was pre-empted.

Her mother would scold her and threaten to tell

But Bethy would silence her always

By telling her if she would spill what she knew

She'd be scooting down nursing home hallways.

Yes, Beth was a terror to all that she knew

But no one outside her home saw it

They all thought that Beth was an angel sans wings

When she really was Lucifer Wallace

So if you all know of a Beth in your town

And if you admire her virtue

You better start taking a good look around

And make sure that she's not out to hurt you.

Back to the Main Passions Poetry Page

Back to the Main Passions Page
---
---
Buy Soap Magazines
Go here for great news & scoops, photos and in-depth articles!
Soap Opera Digest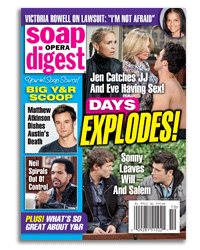 ---
---