PLEASE CLICK TO DONATE TO OUR SITE!!!!
Passions Poetry
---
Poem by Shirley
JULIAN'S LAMENT
When I was a tiny child
My mother said I was quite wild
I loved to play with all my toys
And shared them with the other boys.
But when they made me mad, you see
I had to treat them severely
Because they had no right to do
The things to me they'd do to you.
I was a special child, you know
A beauty from my head to toe
My hair was shiny, wavy too
My eyes were dark not icky blue
My father was a man of men
He bought and sold the lot of them
His money he was very proud of
His conquests he spoke very loud of
And I was raised to do my part
Although it broke my very heart
And I would give it all away
If only Eve were mine today.
Back to the Main Passions Poetry Page
Back to the Main Passions Page
---
---
Buy Soap Magazines
Go here for great news & scoops, photos and in-depth articles!
Soap Opera Digest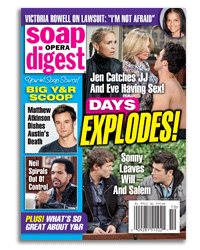 ---
---