PLEASE CLICK TO DONATE TO OUR SITE!!!!
Passions Poetry
---
Poem by Shirley
A Song for Shuis
Our lips meet, our hearts beat as one.
The sun shines, the crystal waters run.
The world is united, the heavens shine
As if they all know you are mine.
The birds sing, the wind sighs.
We look into each other's eyes
To see our images within
And taste each other's lips again.
To stay like this till our lives end
Is all we want, a true Godsend
To be together all our days
To share our joy in every way
For now we're destined, endlessly
To only meet clandestinely
But one day soon, we hope and pray
We nevermore will be this way.
Our paths will join, our lives entwine
We'll nevermore say yours or mine
We'll only speak of love as ours
And never have to count the hours
Till we can be like this again
Our love no longer seen as sin
Our bodies yearn for that sweet day
When we can meet like this, and stay.
Back to the Main Passions Poetry Page
Back to the Main Passions Page
---
---
Buy Soap Magazines
Go here for great news & scoops, photos and in-depth articles!
Soap Opera Digest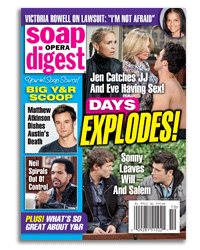 ---
---