PLEASE CLICK TO DONATE TO OUR SITE!!!!
This is just an unofficial fan page, we have no connection to "Passions" or NBC.
PLEASE CLICK TO DONATE TO OUR SITE!!!!
Passions Poetry
---
Poem by Shirley
Christmas In Harmony
Christmas is coming
A time of pure joy
When Santa brings presents
To each girl and boy.
But what are the presents
He's going to bring
To Harmony residents?
What kind of things?
Will he bring happiness,
cheer and great joy?
Not in this lifetime!
He'd much rather toy
With all their affections
And cause them more pain
And instead of snow
He'll prob'ly bring rain!
He could bring them love,
And other good things
Like new cars and furs
And bright diamond rings
He could make them happy -
They really deserve it -
He could make them sappy
With joy - he could serve it
With generous dollops
Of blessings, hope, laughter.
He could, if he wanted,
Bring joy ever after.
But I am quite certain
That won't be the case.
No, when he leaves town
You won't find a trace
Of that old Yuletide spirit,
Of laughter or glee
No gratitude shown
For what's under the tree.
You see, this year's Santa
Is not our old friend,
But Tabby's creation
Stirred up by the wind
Of her vengeful curses
On Harmony's dwellers
And done at the bidding
Of The Boys in the cellar.
No, this year in Harmony
There'll be no Good Cheer,
Just enough pain and heartache
To last all next year.
Back to the Main Passions Poetry Page
Back to the Main Passions Page
---
---
Buy Soap Magazines
Go here for great news & scoops, photos and in-depth articles!
Soap Opera Digest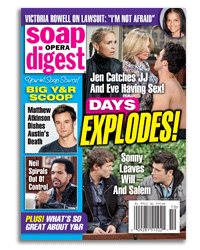 ---
---