PLEASE CLICK TO DONATE TO OUR SITE!!!!
Passions Poetry
---
Poem by Shirley
Of Hank and Luis
Hank, tall, blond, chiseled chest
Silent, brooding, heaven blessed.
Luis, dark, handsome, luscious lips
Eyes burning, urging moral slips.
Two men of beauty unsurpassed
Gorgeous from first look to last.
I see them, right there on the screen
As if I've slipped into a dream
Where Gods in loincloths roam the land
And just might beckon with their hand
To come with them, to be their love
To spend my days with them, above
The dark and dreary world down here
To have them always standing near
To always feel their muscles firm
Beneath my hands. For this I yearn.
Back to the Main Passions Poetry Page
Back to the Main Passions Page
---
---
Buy Soap Magazines
Go here for great news & scoops, photos and in-depth articles!
Soap Opera Digest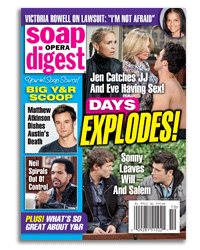 ---
---