PLEASE CLICK TO DONATE TO OUR SITE!!!!
Passions Best Moments
---
8/4/08 – 8/8/08
Monday
When little Ethan fixed the camera, Sam wanted to rewind the tape.
Theresa said that she and Ethan have a connection and he would be able to save her from danger.
When Juanita shot Theresa, the gun exploded in her hands instead of hitting Theresa.
Ethan was able to stop the bomb from going off.
Tuesday
Endora thought that true love would make her powers stronger and keep the volcano from erupting.
Little Ethan said that Rebecca had a wrinkle which made her let go of the camera.
Wednesday
Endora changed back into a little girl.
Kay said Tabitha had to get baptized in order to save Harmony.
There was suddenly a television in the basement when little Ethan wanted to show the tape to everyone.
Esme unplugged the camera and knocked it on the floor.
Tabitha suddenly had a heart out of the blue.
Thursday
Father Lonigan conveniently knew that Tabitha was a witch for years.
Little Ethan conveniently fixed the camera so Gwen could be busted.
Tabitha had to confess before he could baptize her.
Father Lonigan was able to hear Tabitha's thought bubbles.
Rebecca claimed that Gwen wasn't legally married to Ethan. Gwen was conveniently married to someone else in Las Vegas.
Fancy and Paloma were suddenly pregnant.
Back to the Main Passions Best Moments Page
Back to the Main Passions Page
---
---
Buy Soap Magazines
Go here for great news & scoops, photos and in-depth articles!
Soap Opera Digest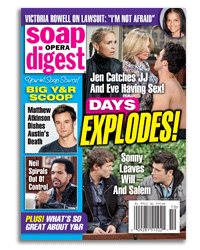 ---
---