PLEASE CLICK TO DONATE TO OUR SITE!!!!
Passions Best Moments
---
7/28/08 – 8/1/08
Monday
Juanita wanted to stay around Harmony to see the bomb go off in the church.
Antonio said he was on another plane when Luis saw it blow up.
Ivy wanted Sam to videotape Antonio's reunion with his family. Sam conveniently left the camera in the rectory where Gwen and Rebecca were talking.
Sam showed up looking for his camera while Rebecca was watching the footage of her and Gwen's confession.
Ivy walked in after Rebecca forced Sam to kiss her.
Sheridan suddenly thought that Antonio is the man she loves.
Tuesday
Sam said the camera was ruined after Rebecca dropped it.
Ethan wanted Noah and Paloma tog et married before him and Gwen because their parents weren't in the church.
Wednesday
When Gertrude fell in the church, Ethan had to go to her. While he did that, Gwen saw them together.
The remote to the bomb didn't work so Juanita wanted to go to the church.
Little Ethan suddenly showed up at the church.
Juanita didn't hear Theresa calling out to her when she was checking on the bomb.
When Theresa saw the bomb, she wanted to warn everyone. Juanita ended up showing up when Theresa was about to warn everyone about the bomb.
Back to the Main Passions Best Moments Page
Back to the Main Passions Page
---
---
Buy Soap Magazines
Go here for great news & scoops, photos and in-depth articles!
Soap Opera Digest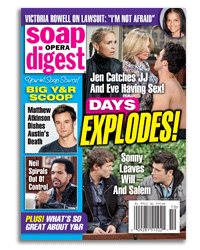 ---
---