PLEASE CLICK TO DONATE TO OUR SITE!!!!
Passions Best Moments
---
7/21/08 – 7/25/08
Monday
Norma and Edna were suddenly getting married.
Ivy was suddenly worried that Julian's great grandmother's illness would affect others in the marriage.
Ethan and Pilar were suddenly talking about Antonio.
Sam conveniently told Ivy that Sheridan knew that Vincent and Viki were going to kill everyone at the church.
No one heard Tabitha screaming abut everyone needing to leave Harmony.
Tuesday
Gwen and Rebecca didn't notice Sam's camera when they were confessing to the things they did.
Sheridan only fantasized about throwing Luis into the garden shears.
Rebecca suddenly wanted to talk about sending Ethan's paternity to the tabloids.
Luis conveniently started telling Sheridan about Antonio being her true love.
Wednesday
Pilar asked Theresa if she remembered how much Sheridan loved Antonio.
Antonio said he came back to be with Sheridan.
The darkside was conveniently after Tabitha.
Pilar told Ethan she misspoke when she called Gertrude Theresa.
Juanita was at the wharf cafe when Theresa was on the phone with Pilar.
Back to the Main Passions Best Moments Page
Back to the Main Passions Page
---
---
Buy Soap Magazines
Go here for great news & scoops, photos and in-depth articles!
Soap Opera Digest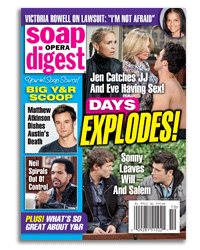 ---
---