PLEASE CLICK TO DONATE TO OUR SITE!!!!
Passions Best Moments
---
7/7/08 – 7/11/08
Monday
Julian and Eve showed up at the church when Vincent wanted to know where they were.
Eve claimed she talked to Pretty's doctor about her.
Tabitha said magic wouldn't cover a mortal's tracks if Esme tried to run away.
Viki came up with a lie for why Sheridan wasn't at the church when Luis was looking for her.
Tuesday
Edna and Norma showed up out of nowhere.
The lock on the closet door was stuck where Esme tried to let Sheridan out of the closet.
Edna and Norma are safe from danger because they spent time in Hell.
Tabitha said Kay and Miguel were in another dimension trying to keep evil from coming to Harmony.
Theresa was only fantasizing about Ethan knowing she's alive.
Wednesday
Pilar stopped Theresa from eating the poisoned steak.
Eve said that helicopters couldn't get to the church in the wind.
Esme was able to read Endora's thought bubbles.
Esme claimed that she did research on evil prophecies and an unexpected act of goodness would get rid of evil.
Tabitha claimed she would lose her powers if she went to the church.
Back to the Main Passions Best Moments Page
Back to the Main Passions Page
---
---
Buy Soap Magazines
Go here for great news & scoops, photos and in-depth articles!
Soap Opera Digest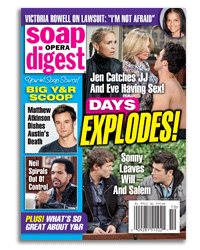 ---
---