PLEASE CLICK TO DONATE TO OUR SITE!!!!
Passions Best Moments
---
6/30/08 – 7/4/08
Monday
Juanita knew that Endora was missing when Tabitha didn't tell her.
Sheridan claimed that she called all the doctors in Europe and they said Pretty shouldn't have a scar.
Sheridan told Luis that her great grandmother had mental problems.
Tuesday
Esme interrupted Eve when she was about to tell Julian whether or not his doctor can fix his penis.
Ivy knew that Pretty was locked up in a mental hospital.
Julian's penis couldn't be turned upside down.
When Theresa was looking for a key to open the door in the church's basement, she knocked over boxes. The boxes turned on the gas line.
Sheridan was listening while Viki and Vincent were talking about their plan to kill everyone.
Wednesday
Eve conveniently had a syringe in her purse that prevented Julian from getting an erection.
Tabitha said that evil will follow the citizens of Harmony wherever they go.
Vincent dropped the pot of the mushroom sauce on the floor and ended up having to get more mushrooms.
Back to the Main Passions Best Moments Page
Back to the Main Passions Page
---
---
Buy Soap Magazines
Go here for great news & scoops, photos and in-depth articles!
Soap Opera Digest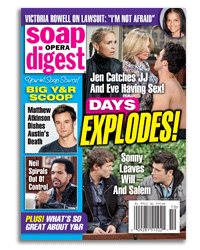 ---
---