PLEASE CLICK TO DONATE TO OUR SITE!!!!
Passions Best Moments
---
6/23/08 – 6/27/08
Monday
Noah claimed that Roberto jumped out of the window on his own.
Noah turned into a gorilla after Tabitha put a spell on Endora's stuffed animals in order to find her.
Esme knew to find Tabitha in her attic. Tabitha could have been anywhere.
Tuesday
Ethan didn't hear why Theresa said she wanted to tell him everything. He only heard the end of it.
Pretty only fantasized about throwing acid in Fancy's face.
Wednesday
Fancy only pretended to be hit with the acid that Pretty threw on her.
Sheridan was able to get out of the fact that Pretty sold her out to Luis and Fancy. When Pretty said that Sheridan knew about her plan to throw acid on Fancy, Sheridan said she didn't think Pretty was serious.
Ethan didn't hear why Rebecca and Gwen wanted to take care of Theresa. He only heard the end of the conversation.
Esme was sleep when Tabitha was telling her about Viki.
Back to the Main Passions Best Moments Page
Back to the Main Passions Page
---
---
Buy Soap Magazines
Go here for great news & scoops, photos and in-depth articles!
Soap Opera Digest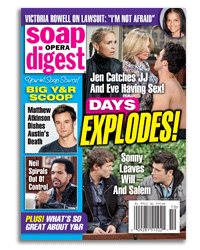 ---
---