PLEASE CLICK TO DONATE TO OUR SITE!!!!
Passions Best Moments
---
6/16/08 – 6/22/08
Monday
Ethan and Gwen didn't notice Gertrude watching them in the living room.
Gwen was able to get Ethan to take off his coat so she was able to get the letter Theresa wrote for him.
Juanita and her henchman knew that the hospital was near the church.
Pilar yelled out Theresa's name, but Ethan and Gwen didn't hear it.
Tuesday
Ethan wanted to look at his jacket (the one that had Theresa's letter in it) when Gwen wanted to go upstairs.
Fancy didn't notice Juanita watching her talking to Luis.
Gwen wanted Gertrude to stay at the mansion to watch Jonathan while little Ethan and Jane went on the trip with Pilar.
Wednesday
Roberto sent Paloma flowers out of the blue.
Ethan didn't figure out that Gertrude is Theresa when he wanted to know how she knew so much about Theresa.
Pretty had acid in a baby bag.
Back to the Main Passions Best Moments Page
Back to the Main Passions Page
---
---
Buy Soap Magazines
Go here for great news & scoops, photos and in-depth articles!
Soap Opera Digest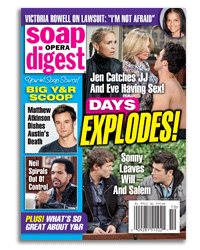 ---
---