PLEASE CLICK TO DONATE TO OUR SITE!!!!
Passions Best Moments
---
6/9/08 – 6/13/08
Monday
Juanita showed up at Tabitha's house when Tabitha was telling Kay that death was supposed to be at her door.
Luis and Miguel showed up in Fancy's room when Fancy was about to tell her that Luis and Miguel know about Juanita.
Little Ethan claimed he had pictures of Gwen in his slide show of Ethan and Theresa.
Tuesday
Ethan was in the attic and Theresa conveniently know to follow him up there.
Miguel conveniently didn't recognize Juanita when he saw her at Tabitha's house.
When Tabitha wanted to talk to Miguel in private, Juanita thought she figured her out. Tabitha only wanted to talk about Luis getting another Crane pregnant.
Wednesday
Juanita conveniently knew little Ethan and Jane's names when no one told her their names.
Juanita had pictures of Pilar's family. She should have only had Luis and Pilar's pictures.
Gwen walked in while Ethan was reading Theresa's letter telling him not to get remarried.
Sheridan and Pretty were listening when Pilar suggested that Luis and Fancy get married sooner.
Back to the Main Passions Best Moments Page
Back to the Main Passions Page
---
---
Buy Soap Magazines
Go here for great news & scoops, photos and in-depth articles!
Soap Opera Digest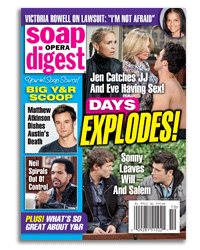 ---
---