PLEASE CLICK TO DONATE TO OUR SITE!!!!
Passions Best Moments
---
6/2/08 – 6/6/08
Monday
Luis said that he was supposed to be on a double date with Miguel and Kay.
Gwen wanted Gertrude to measure Ethan for his tux instead of doing it herself.
Kay said Jessica was in rehab.
Tuesday
Luis and Miguel walked in on the tail end of Pilar's conversation about Juanita.
Juanita had a black wig in order to change her appearance.
When Gertrude said she loved Ethan, Gwen overheard her. Predictably, Gertrude was able to get out of what she said.
Wednesday
Vincent claimed he did research on Viki's past and knew that she killed her parents.
Carmilita was conveniently alive after Juanita and her henchman threw her in the water.
Back to the Main Passions Best Moments Page
Back to the Main Passions Page
---
---
Buy Soap Magazines
Go here for great news & scoops, photos and in-depth articles!
Soap Opera Digest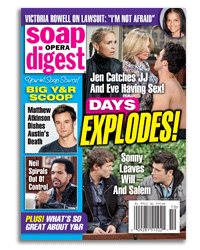 ---
---