PLEASE CLICK TO DONATE TO OUR SITE!!!!
Passions Best Moments
---
5/26/08 – 5/30/08
Monday
Pretty had different padding in order to fool Luis into thinking she's pregnant.
Esme and Viki knew that Alistair was dead.
Pilar answered for little Ethan when Gwen and Ethan wanted to know why he called "Gertrude" "Mommy".
Ethan and Gwen didn't hear little Ethan call "Gertrude" "Mom".
Sam said that the gun that Julian used to shoot Alistair had blanks in it.
Viki conveniently shot Alistair at the same time as Julian.
Luis and Fancy didn't see Pretty wearing her padding when they went into her room.
Tuesday
The hospital needed Eve's help since it was swamped.
Ethan told "Gertrude" how kissing her reminded him of kissing Theresa.
When Viki was about to stab Ivy, Esme showed back up.
Wednesday
Valerie saw Viki hiding Ivy in a closet, but no one else did.
Gwen said that she and Ethan were going to renew their vows with Noah/Paloma and Miguel/Kay.
Back to the Main Passions Best Moments Page
Back to the Main Passions Page
---
---
Buy Soap Magazines
Go here for great news & scoops, photos and in-depth articles!
Soap Opera Digest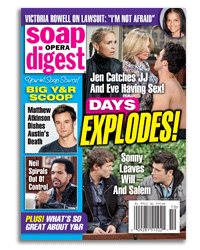 ---
---