PLEASE CLICK TO DONATE TO OUR SITE!!!!
Passions Best Moments
---
5/19/08 – 5/23/08
Monday
A driver was outside the Crane mansion to take little Ethan to boarding school.
Little Ethan knew that Gwen still planned on sending him to boarding school.
Sheridan claimed that the night she let Vincent die still haunted her.
Ethan and Gwen didn't hear Theresa say the family would be killed if Theresa revealed her identity.
When Alistair got the gun from Eve, she managed to get a needle and stabbed him.
Gertrude found a letter that said Theresa didn't want little Ethan and Jane to go to boarding school.
Tuesday
Juanita said she put a device in Agent Henderson's phone so she would have been able to find Pilar.
Julian knew to stop Eve from killing Alistair.
Agent Henderson had to stay on the phone with Pilar longer in order for Juanita to track Pilar.
Tabitha said that whoever killed Alistair was going to cause the destruction of Harmony.
Wednesday
The bookcase in the library fell on little Ethan and Theresa.
Sam and Ivy conveniently knew to be at the hospital after Alistair was killed.
Two people at the hospital didn't hear Kay tell Tabitha that her spell worked.
Back to the Main Passions Best Moments Page
Back to the Main Passions Page
---
---
Buy Soap Magazines
Go here for great news & scoops, photos and in-depth articles!
Soap Opera Digest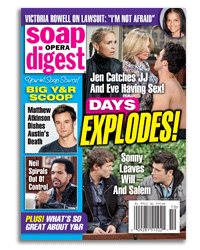 ---
---