PLEASE CLICK TO DONATE TO OUR SITE!!!!
Passions Best Moments
---
5/12/08 – 5/16/08
Monday
Theresa was able to talk herself out of how her teeth ended up in the dessert she made for Ethan and Gwen.
Luis suddenly remembered that Sheridan knew how to fly a plane.
Gwen conveniently wanted to stay with Ethan in the guest room instead of going back to their room.
Pretty showed up at Sheridan's cottage when she was trying to help Luis land the plane.
Luis didn't hear Pretty telling Sheridan to hang up the phone and let him and Fancy die.
Tuesday
Gwen thought something was wrong with her when she saw Ethan and Theresa making love.
The agent's phone rang when he caught Juanita. That made it possible for Juanita to escape again.
Pilar was saying to herself that she hoped Gwen didn't find out that Theresa is alive. Just after Pilar said that, Gwen walked in the room and told her that Theresa is alive.
Wednesday
Pilar was purposely yelling outside of Theresa's room when she was trying to stop Gwen from going in the room.
Theresa managed to sneak out of the room with Ethan before Gwen saw them together.
Back to the Main Passions Best Moments Page
Back to the Main Passions Page
---
---
Buy Soap Magazines
Go here for great news & scoops, photos and in-depth articles!
Soap Opera Digest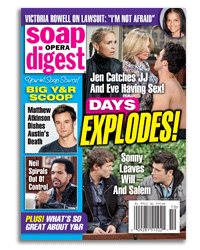 ---
---