PLEASE CLICK TO DONATE TO OUR SITE!!!!
Passions Best Moments
---
5/5/08 – 5/9/08
Monday
A candle was conveniently lying by Kay's dress when she was wondering what happened to it.
Pretty and Sheridan managed to get away from Luis and Fancy's door before he saw them. It helps that he turned the knob slow enough to give them time to leave.
Fancy conveniently thought that a woman's heart was breaking and that could have been what she and Luis heard.
Theresa was only fantasizing about being with Ethan.
Theresa conveniently wanted to fix her makeup and left the room to go to the bathroom. While she was in there, Ethan showed up in the room.
Gwen showed up in the spare room before Theresa came out of the bathroom.
Theresa conveniently wanted to touch up her lipstick before she left the bathroom.
Tuesday
Theresa chose to keep talking about seeing Ethan instead of doing it.
Ethan's phone rang and Theresa was able to leave the bathroom. Someone called Ethan to let him know that Juanita escaped.
Ethan and Gwen were talking about Juanita escaping so they managed not to see Theresa sneak back into the bathroom.
Wednesday
Theresa was able to dress up as Gertrude before Ethan and Gwen saw her in the bathroom.
Theresa was able to come up with a reason for why she was in the bathroom.
Someone called Pilar to tell her about Juanita escaping.
Back to the Main Passions Best Moments Page
Back to the Main Passions Page
---
---
Buy Soap Magazines
Go here for great news & scoops, photos and in-depth articles!
Soap Opera Digest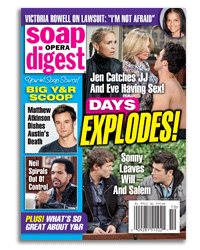 ---
---