PLEASE CLICK TO DONATE TO OUR SITE!!!!
Passions Best Moments
---
4/28/08 – 5/2/08
Monday
Theresa was able to get out of the mess she was in when she told Gwen she wasn't little Ethan's mother.
Every station Julian watched ha d a program on that made him become aroused.
Theresa conveniently said she wouldn't send her children away after Pilar sent Paloma to Mexico.
Tuesday
Esme told Viki how Julian will die if he's erect.
Sheridan and Pretty were listening when Luis wanted to be alone with Fancy.
Ethan saw Pilar hugging "Gertrude".
Julian was having sexual urges in his sleep while Viki was watching him instead of Esme.
Juanita was conveniently getting arrested right after Theresa wondered when it was going to happen.
Wednesday
Ethan conveniently only heard the end of Theresa's conversation with Pilar about him. He only heard her say "my secret". He didn't hear the rest of it.
Paloma didn't see Tabitha use her magic to get the book out of her hands.
Ethan suddenly wished that Theresa were secretly alive somewhere. He was conveniently talking to Theresa (as Gertrude) at the time.
Back to the Main Passions Best Moments Page
Back to the Main Passions Page
---
---
Buy Soap Magazines
Go here for great news & scoops, photos and in-depth articles!
Soap Opera Digest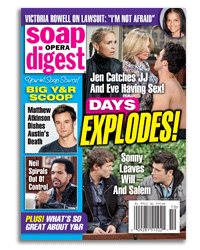 ---
---