PLEASE CLICK TO DONATE TO OUR SITE!!!!
Passions Best Moments
---
4/21/08 Ė 4/25/08
Monday
Viki was able to hide before Sam kicked in Julianís door at the hospital.
Esme, Viki, and Sam didnít hear Vincent telling Eve about what she did to Julian.
Theresa was able to put her fake teeth in her mouth before Pilar and Paloma saw her.
No one saw Viki slip out of Julianís room.
Julian didnít remember how Viki stabbed him.
Tuesday
When Julian said Vikiís name after Sam questioned him, he only said it because he saw her at the door.
Ethan couldnít hear Pilar and Gwen talking about Theresa. They werenít that far from him.
Gwen left the door open while she was taking a bath.
The nurse that was giving Julian his medication conveniently had a phone call, and Viki was able to get his medicine.
Wednesday
Julian and Esme didnít see Viki standing outside of his room watching them.
Viki was able to hear Julian and Esme talking in his hospital room, but they didnít hear her.
Back to the Main Passions Best Moments Page
Back to the Main Passions Page
---
---
Buy Soap Magazines
Go here for great news & scoops, photos and in-depth articles!
Soap Opera Digest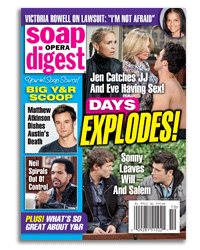 ---
---