PLEASE CLICK TO DONATE TO OUR SITE!!!!
Passions Best Moments
---
4/14/08 – 4/18/08
Monday
Fancy walked in Pretty cubicle when Eve was telling Pretty that she's pregnant.
Gwen was conveniently still in the shower while Ethan was talking to Theresa (as Gertrude) about his life with her.
Tuesday
Theresa was conveniently listening outside of Ethan and Gwen's door when he said he wanted to go out.
Theresa conveniently knew that Gwen was allergic to hot sauce.
Wednesday
Little Ethan was in Theresa's room when she was saying how she should have stayed dead.
Sheridan knew that Pretty threatened to have an abortion.
Gwen suddenly wanted to send little Ethan to boarding school.
Ivy, Esme, and Viki walked in Julian's room when Sam wanted to know what Eve was saying to Vincent.
Julian started stirring when Eve was about to tell Sam the truth about Vincent.
Back to the Main Passions Best Moments Page
Back to the Main Passions Page
---
---
Buy Soap Magazines
Go here for great news & scoops, photos and in-depth articles!
Soap Opera Digest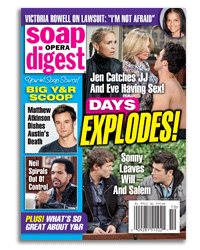 ---
---