PLEASE CLICK TO DONATE TO OUR SITE!!!!
Passions Best Moments
---
4/7/08 Ė 4/11/08
Monday
It was convenient how Theresa and Pilar had a conversation where Theresa told her why she couldnít tell Ethan the truth about little Ethan.
Viki wasnít stabbing Julian at the hospital. She was only stabbing the mattress.
Eve and Vincent didnít see Viki slip out of Julianís cubicle.
Ethan walked in on Gwen and Pilar talking, but he didnít hear them talking about Theresa.
No one saw Viki unplug the machine that Eve was using to save Julian.
Viki conveniently knew which plug to unplug when Eve was trying to save Julian.
Tuesday
Little Ethan was the only one who recognized Theresa.
Someone conveniently told Rebecca about what happened.
Vincent was able to hear Rebecca talking to Julian in his hospital room, but she wasnít talking that loud.
Wednesday
Ethan and Gwen conveniently didnít hear Theresa and little Ethan talking in their room.
Eve conveniently sobered up after Rebecca slapped her.
Paloma was conveniently falling off a chair while Roberto was walking by her room.
Noah showed up at Palomaís room right after Roberto caught her.
Little Ethan conveniently had itching powder in his magic bag.
Back to the Main Passions Best Moments Page
Back to the Main Passions Page
---
---
Buy Soap Magazines
Go here for great news & scoops, photos and in-depth articles!
Soap Opera Digest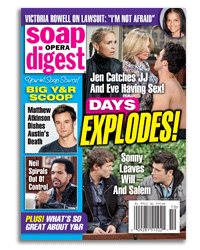 ---
---