PLEASE CLICK TO DONATE TO OUR SITE!!!!
Passions Best Moments
---
3/31/08 Ė 4/4/08
Monday
Ethan didnít see Theresaís reflection in the mirror when Gwen told him that she was alive.
Rebecca showed up in Ethan and Gwenís room when he was looking for Theresa.
Theresa managed to hide behind another curtain when Ethan was looking for her.
Theresa was able to sneak out of Ethan and Gwenís window without anyone seeing her.
Theresa was conveniently outside of little Ethanís window while Ethan was talking to him about her.
Tuesday
Noah and Paloma didnít see Viki glaring at Julian at the mansion.
Ivy and Rebecca didnít see Theresa standing outside of the door while they were talking about getting a nanny.
Theresa was conveniently standing outside and heard Ivy and Rebecca talking about hiring a nanny for the kids.
Vikiís phone rang while she was watching Julian and Esme at the mausoleum.
Wednesday
Esme conveniently didnít see Viki stabbing Julian.
Sam was at the mausoleum when Esme was screaming for help.
Ethan conveniently wanted to get Pilar a tissue and he left her alone with Gwen.
Back to the Main Passions Best Moments Page
Back to the Main Passions Page
---
---
Buy Soap Magazines
Go here for great news & scoops, photos and in-depth articles!
Soap Opera Digest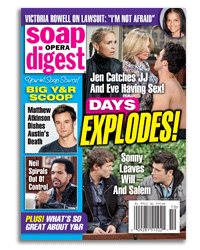 ---
---